Ricky Perry the Texas Dingle Berry said something scary:
"Religious freedom does not mean freedom from religion"
(oh shit)
yes, it does. In governance, no one can select ONE religion
to be the national religion. Hint: it's the one all TeaOP'ers
use in calling us a 'Christian Nation'. That bonks Catholics
Hindi, Islam, Morons, Sikh, etc. The entire point of the 1st
amendment is to keep government & religion 'SEPARATE'
It even cuts both ways. Government can't set up a national
(yeeesh)
religion, and they can not shut down anyone for practicing
their own religion. See how that works? So in other words;
you may have whatever flavor of religion you like…you get
tax free status, & the government can't say shit to you. But
you can't use the government to sell/install/promote your
religion, otherwise you violated the 1st amendment buddy
(Nice!)
Simple shit, but bigoted morons using religion to cover up
serious racial issues with others never understand this shit
This massive 'Fidiot' can't even tell Libya & Lebanon apart
What a mega "Douche-A-Tron 3000 Robot" w/no memory
Issahole IRS Irritating Ire
Darrell Issahole told the committee he's heading to get to
the bottom of the IRS stuff "not to release any statements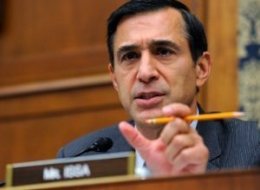 ("A little lie?")
to the public". Then Issa goes ahead to release statements,
out of context, bolstering his unfound case that the Obama
Administration is directly involved to the public. Ooooops
What did Democratic leader Elija Cummings then do????
He released ALL the interview transcripts, 205 pages total
This naturally pissed off Issa, who is now 'caught' with his
("Hey Issahole")
pants, ankle high, because he was 'using' the information,
that supported his 'conspiracy theory', not the actual facts
In releasing ALL the 'actual' responses, Issahole now can't
cherry pick, & cobble together a string of lies to support a
nutty 'conspiracy theory' of hate. It 'should' end his career
After all….the only thing ya get from lying assholes, is shit
(It's Roman Maronie)
With the 'facts' out, it was GOP conservative John Schafer
who targeted all these filings. Why? To streamline service
Schafer was asked, "Was anyone in the WH involved with
the decision to screen tea party cases?" Schafer, "I have no
reason to believe that". Question, "Was anyone in the WH
involved with centralizing the review of Tea Party cases?"
Schafer said "I have no reason to believe that"; & Issahole
KNEW all this, but still trots around spewing the hate BS
(truth stings)
For the modern TeaOP, when you can not govern, & hold
no valid policy, EVERYTHING must be political & used to
end Obama. Too bad there are REAL things he's done that
are bad to hit him on, but ignorant hate does not recognize
the truth if it was on top of them, & fucking them very hard
Tomorrow: Obama defends NSA spying, disagrees w/self
Hawks MUST win, skate with heart, & we got Hossa back
Have a day!