I'm back baby! Well, it sure beats being a "baby's back", am I right?
The 'NSA wiretapping' goes directly against what Obama ran on. It
(Whooooopsie)
goes against shit he has directly said, "I will not do that, it needs to
change; I will change it". Nice words………but his administration is
actually doing the EXACT opposite. All the facts will come to light,
& we will know who did what, when, & why this is SO fucked up!!!
We have a 4th amendment, at minimum, they must go to the FISA
courts to get a warrant. That is at the LEAST. But sometimes they
(Remember the "hope"?)
are not even fucking doing that. After all, they just want to "listen
in on all of us, all the time, forever". Oh goooody, so we all have to
pay for the NSA to violate our 4th amendment rights. Obama best
get out ahead of this, have real accountability, or he 'literally' looks
like W. Bush's NSA Policies on steroids. That sucks, and is very bad
Edward Snowden Falling On Cedars
There's a new hero on the block, & his name is Super Man…wait, no,
not that. His name's Ed Snowden, & I'm on "Team Edward" for now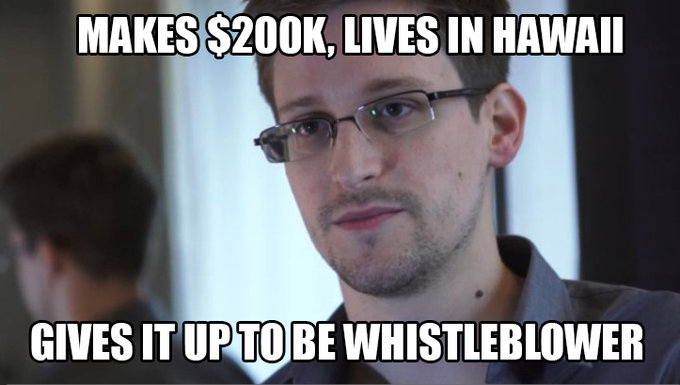 (Boom, hero!)
"I have no intention of hiding who I am,
because I have done nothing wrong"
His views are strong, sensible, and rather 'wise' in today's silly lying
"cover-up" happy world. Our 'Government' shouldn't only highlight
stories, facts, or policy positions that make them look good. He was
the dude who leaked the NSA stuff, & he should be applauded by all
Both the Republican's & Democrats have demonized this poor man,
(his smoking hot girlfriend)
& they royally sucks balls. Royally big time. He is actually a 'hero' to
most rational Americans. Basically, all 'establishment lying assholes'
really hate him, because in leaking the truth, he royally fucked them
They got no "Cover" for their lies, deceit, & ignoring the constitution
Blackhawks Stanley Cup game 1 vs. Bruins tonight; let's puck em up
Have a day!