This was a gloves off, knock down, stand-off-almost slap flight
Never seen a debate like this my entire life. It was serious shit
Obama won the debate with facts, Mitt lost with zero specifics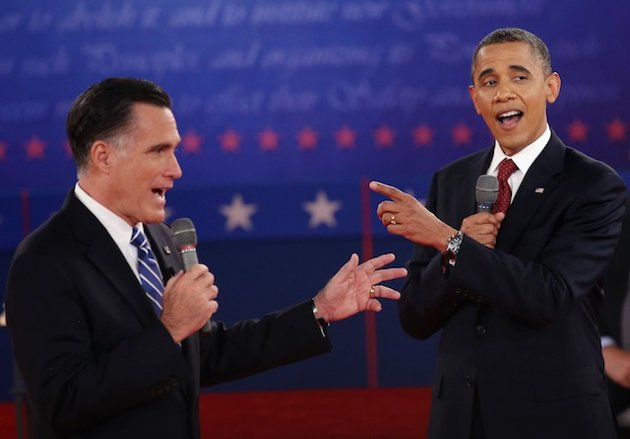 ("gonna beat his ass")
Mitt was "selling", not "telling". That just won't make the case
Mittens also had a large Libya flub that the moderator Candy
Crowley had to correct him on. Oh & FOX was badly butt-hurt
When FOX calls it a "draw", it means Mitt lost badly. In all the
instant snap polls Obama clearly won. What did Megan Kelly
(Uh oh)
of FOX have a problem with? Oh, it was the evil bad questions
Other idiots screaming "Candy Crowley was partisan". Yes, the
fucking moderator is against you, the questions, & now reality
See….I don't know if you know this, but according to FOX, no
Republican has ever LOST a debate, & no Democrat has won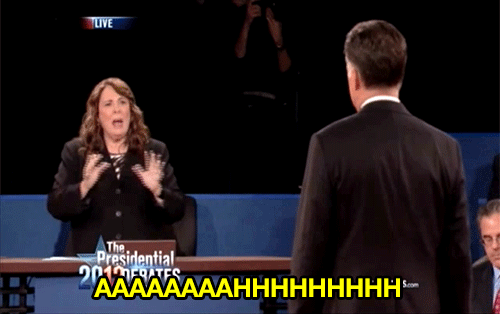 ("please stop")
These two fuckers don't like each other at all. The word "hate"
comes to mind. They totally disagree about how to solve stuff
You saw 2 totally different visions, policy, & styles. It was like
a fancy alphamale dick measuring contest with nicer carpeting
Mitt pissed of Obama on Libya implying he wasn't concerned
at all with the deaths of Chris Stevens, & the 3 others by going
on a "fundraising tour". He was PISSED, & quickly shot with:
("HEY Mitt")
"The suggestion that anybody on my team, whether it's a secretary
of state, our UN ambassador, or anybody on my team, would play
politics or mislead when we've lost four of our own, governor, is
offensive. That's not what we do. That's not what I do as president,
not what I do as commander in chief" *fixed an angry stare at Mitt*
The bottom line here is Mitt is trying to "play at president" and
doing anything under the sun to try to win it. The problem here
is we don't know exactly what Mitt specifically wants to do if he
gets it. THAT'S Mitts biggest issue. He's sure he wants to be the
president, he is just not all that keen on telling us what he'll do
(make it stop)
He was also rude with the "you'll get your chance in a moment"
This is the POTUS jack, this isn't your co-worker you Mitthole
The phrase of the debate was "binders full of women" by Mitt
Ahem, we call those "head shots" or Playboy. Casting couch??
Final debate is on Monday. Ahhh that's the Bears game, sorry
but for a true Chicago guy he should've had the schedule ahead
Paul Ryan Can't Even Do Charity Work Right
Ohhhhhhhhh shit balls. I've never seen a selfish lying dickhole
find a way to making "working" in a soup kitchen look douchey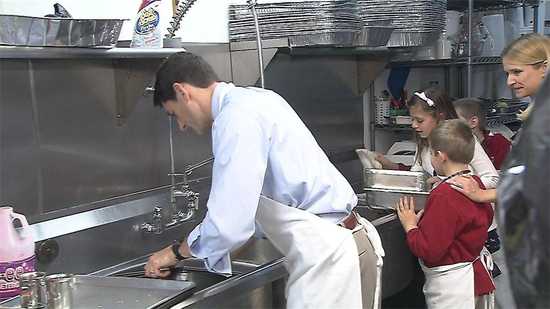 ("They're clean!")
Turns out, his campaign folks decided to go to the charity after
they had already served the food and to slip in for the photo-op
The manager running the entire food shelter didn't know this
was happening. When they found out he came in, WITH HIS
kids, to do the photo-op, they had him washes pans that were
already clean, the women decided to say this realistic reaction:
"the phoniest piece of bologna I've ever been associated with"
("try this")
Holy disco shit funky insane idiot stupid balls this is awesome
In order to shed an image that both he & Mitt are out of touch
rich pricks that don't give a shit about the needy in our society,
he does something that clearly shows he's an out of touch rich
prick who doesn't care about the needy in our society. Unless
you bastards think the soup kitchen should only be alllll about
the "homeless"? No, fuck that. It's all about the Ryan photo-op
Have a day!