In the "special election" for the vacant seat of Ted Kennedy in Massachusetts today, we have Scott "Doo Doo" Brown against Martha "Law And Oder" Coakley…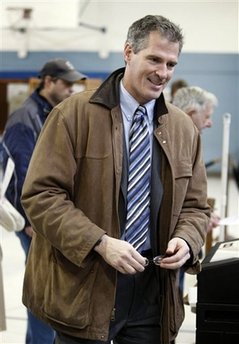 (Curling iron rape jokes are funny)
Guess when a DA, who handles over 900 child rape cases a year drops the ball, you should happily agree with sexist remarks about shoving a curling iron up her ass…
Classy Scott Brown…
Listen closely. At 3 seconds in, a man shouts "shove a curling iron up her butt"*…
*Referring to an 05 rape case where a cop Keith Winfield raped his 23 month old niece with a curling iron. Her office did end up finally bringing charges after a longer period of time selecting grand juries, to which her successor ended up getting a conviction of two life sentences because of the strong case they took time to build…
(Shake hands with yourself)
Brown turns, laughingly smirks, and then says, "We can do this"…
Do the right thing today Massachusetts. Elect the independent…
Or put Coakley in so we can get some quality fucking healthcare…
Hopper Hopped Up And Trying
Poor Easy Rider. Cancer sucks. Ass cancer super sucks. It really pisses me off. It should be kicked in the groin, if it has a groin, and set to "forever speed repeat"…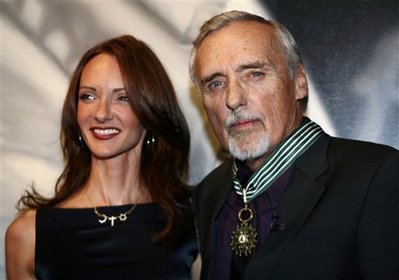 (I won an award AND a wife)
Sadly, he just divorced his wife. With things really bad, what's next?
Hopper now has to stay home & get really super high. Meh, if you're going to go, you've got to admit, there about 1.9 million worse ways to check out than that…
(This is "Blue Krypton" huh?)
Besides, now suddenly Chinese food made of cat and dog tastes incredible…
Have a day!