You've heard it all by now. The war with NBC, Leno, and Conan…
(Wrong Conan)
It's not really a "war" so much as an NBC brass back peddle trying to fix reality…
What rhymes with Zucker? Sucker, Ducker, Trucker, Mother Fucker…
Yep. NBC executives really stuck their wenis in the ol' scheduling pie this time…
(Noice!)
This is more screwed up than Joan Rivers plastic surgery. At one point NBC actually had a show on their schedule called "Mistakes". Pretty ironic if you ask me…
Sadly, this problem also gives a whole new meaning to the term "3-way"…
(PPV dude-orgy?)
Conan wrote a note to NBC brass. Luckily we have it here it is in photo form: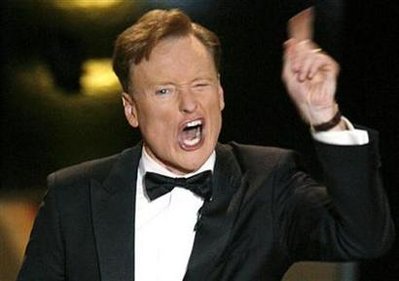 (If you do, I quit)
With Conan maybe leaving, Letterman still won't get a show offer from NBC…
For Letterman NBC stands for No Body's Calling…
Meh, they should do a show together with just Jay Leno's Chin and Conan's Hair…
Let's call it "Long Face & High Hair". You could also try "Mac Tonight & The Mick"
(It's Leno's doppelganger)
Have a day!