This to you as simply as I can buddy…
(Oh, I get the joke now)
We all make mistakes. Heck, I pissed in my gas tank thinking it was a "really tiny bathroom" once because I was so plowed. I also had sex with a Mail box.
Twice.
It was that gooooooood…
The deal is this. Don't lie, hide, or run from your mistakes. It's never the mistake people are pissed about. It's the trying to hide it, cover it up, or lie about it. We're like Morpheus from the Matrix and know much more than you think we do…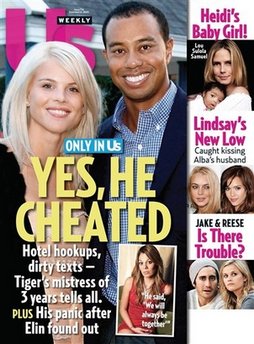 (No Afghanistan war cover?)
But if you try to duck your comeuppance, watch out!
You're not the 1st man in history to ever cheat on their spouse, and it doesn't make you some evil monster. You seem like a nice guy who truly loves his family, but slipped. Mistakes happen. It's the "not coming clean" part that always gets ya…
("Daddy has to live on the couch?")
Letterman should be kissing his ass right about now for taking heat off him…
What do Tiger Woods, David Letterman, and Hugh Grant all have in common?
None of them are black…
Have a day!