(Alright kid, gimme some candy quick!)
Suddenly becomes "Wine Flu"…
In an effort to stop the Swine Flu epidemic from spreading Amanda Gallagher from Mahattan decided to stay home from work today citing "Wine Flu"…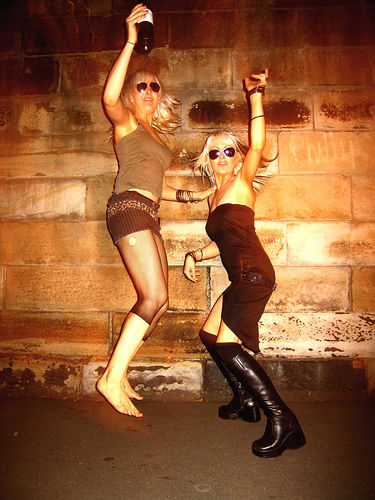 (Weeeeeeeeeeeeee, bottle chug!)
She and her friends went through 3 bottles of Shiraz last night talking their friend Mindy down after a 5 year break up where dude stiffed her on three months rent…
(Her boyfriend was Ralph Macchio)
So she called in with Wine Flu. It sounds close to Swine Flu since you're only missing the "S". They'll ask, "Did you say Swine Flu?". Mumble something and hangup…
Bam, you got the day off!
Letterman And The President
It sounds like a kids fantasy book about Letterman, the leader of the free world, and a talking unicorn named Pepe who can shit solid gold…
(Pepe's so majestic, please shit!)
If Pepe were real, the recession would be over…
(Did someone spit in your mug?)
Obama had a nice zinger for the question of whether some of the vitriolic reaction to his health care plan is driven at least partly by racism.
"First of all, I think it's important to realize that I was actually black before the election," Obama said to huge laughs from both Letterman and the audience.
(His $5 Footlong policy)
Sadly, now racists will be all like, "That's right, he was black before the election, how do you suppose he up an slipped that past us Zeke?". Zeke will then say, "It's the TV's fault! They made him look all white and nice to me. Stupid lying TV!"
Have a day!