According to Obama it does…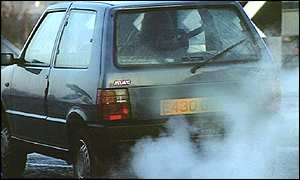 (Smells like eggs & hurt)
Don't you ever feel like the 8 years of Bush was like your older, less intelligent brother Chet watching the house while your parents were gone? Yeah, he was the one who let you literally do fucking anything you wanted and could not care less if he tried. You want to jump of the roof onto a trampoline, launch over the neighbors fence and into their pool after one flip? Have at it, go nuts…
If you died, he thought "Kick ass, fewer kids to watch"…
Well now mom & dad pulled in, and they're super mega pissed…
What comes next?
(You…will…not…do…this…again)
Makes sense. Obama's new fuel and emission standards for cars and trucks will save billions in oil but are expected to cost consumers an extra $1,300 per vehicle by the time the plan is complete in 2016. Screw it, by then we'll have hover bikes…
(Hovering saves on parking)
Meh, I don't own a car, but I understand how people feel. It sucks when anything goes up in price, but like Young MC once sang in "Bust A Move"…
"You're on emission, and you're wishing someone could cure your cars condition
Tryin' to save cash in all the wrong places, no good ways, just smiling faces.
From frustration, first inclination, is to become a dick and leave the situation.
But every dark tunnel has a light I hope, & we'd all be happy if cars ran on dope."
Things I Don't Need To Hear About
Michael Phelps, your new dog who's the "cutest thing since forever", a BBQ party you're having in August, how you "found Jesus", or why you're out of job…
(Not listening, yet your mouth moves)
Everyone is, but they're not bitching about it, because by "code" they now have to listen to you bitch about your problems. That's why they don't in the 1st place…
Hawks play tonight at 6:30. If they lose, it's all over but the cryin'. Here's hoping they find a way to play good defense, handle the pucking puck better, and win…
("Like Hooters, Wings are going down")
Have a day!