Know he's the "Smelly Cab Guy"?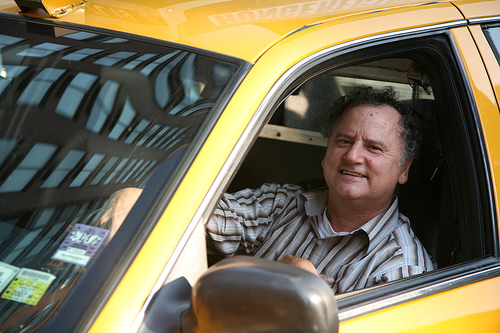 ("I smell likea the ass")
I don't think so. Follow me on this. If knew his cab smelled like arm pit funk that claws at the very soul of passengers, wouldn't he change it? I thought maybe his "friends" figured "If he can't tell the hell he's emitting, it's not bad for him"…
I was in one yesterday. When I got in, it hit me like an aluminum bat in the face. It was a mixture of stale cottage cheese, three week old Indian food in temperature of a 104 degrees, and an Aamco's gas station locker room…
(Must…conserve…breathing)
My clothes started disintegrating. My eyes were burned from their socket so badly it looked like two raisins placed in hallowed wall-nuts. After I started loosing consciousness I couldn't decide of this inhuman funky BO was emitting from him or he and the cab had some sort of unholy scientific "funk exchange pact" going on…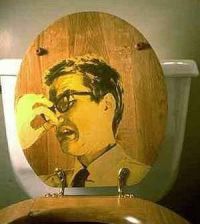 (Nice crapper)
It was almost like they feed off of each other…
My total at the time was $4.45, so I threw him a $10, tucked, and rolled out of the cab while it was still moving yelling, "Can't…take…it…anymore". When my vision came back, I realized I was standing in Gary Indiana. No more "smelly cabs"…
Rudey
More "Obama Drama" at Notre Dame. Yesterday Obama delivered the commencement speech to ND graduates. Which ever side you find yourself on the abortion debate, I get it. When one side shouts the other down or creates an "absolute", that's bulling the debate rather than explaining why your position is better. It's no longer a rational discussion. It's "mob rule" thoughts and actions…
("Good luck finding a job suckers!")
Five minutes into the speech a man started yelling, "You are a baby killer". Someone should tell these people they're not helping their position. It makes the face of their position "shouting zealots". Then you sound like Alan "Cup O Crazy" Keyes…
(Dolls in strollers covered in fake blood?)
But class always shines through. When people shouted things during the speech, the crowd broke into a deafening chant: "We are N.D.". Well done…
Blackhawks got their lunch handed to them 5-2. They played so badly there was so much scoring by the Wings it looked like an orgy. Game 2 on Tuesday…
Time to bounce back baby…
Have a day!