Leave it to Oprah…
(A classic "Fart Off")
Remember when she put author James Frey's "A Million Little Pieces" in her "Book Club", found out he lied about some parts, then had him on her show to belittle him?
Well she, just apologized to him…
WTF?!?!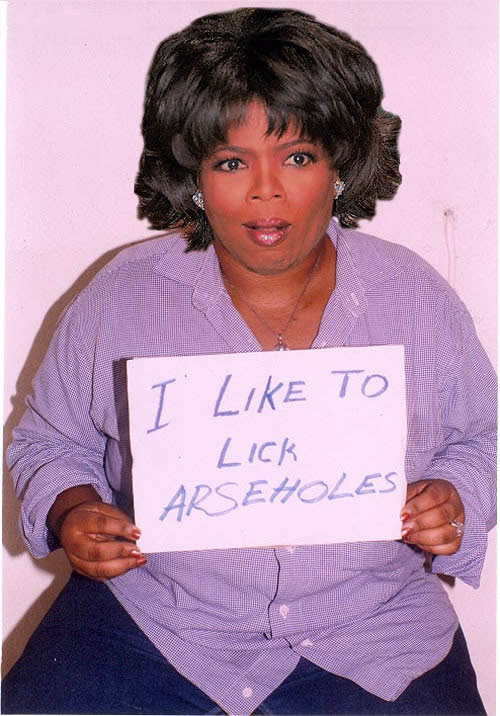 (Was "Will Work For Food" taken?)

No no no Orca, that's not how it works. You're upsetting the entire "Assholes VS. Regular People" balance that has existed in nature since the dawn of man…
See, it's always worked where assholes were lucky if we didn't call them out for being assholes in the 1st place, but they don't get an apology to boot…
No way Jose. Meh, what do you expect from someone with her own line of currency?
(Are these like Disney Dollars?)
Look Ocra, take your apology, show, magazine, weight fluctuation, and go away…
You're becoming an "asshole"…
Which according to your logic we'll now owe you an apology right? Nope, not today…
Speaking Of Stupid Books
Sarah Palin's coming out with a book in 2010 about her overnight rise from governor of Alaska to John McCain's running mate. It's being published by Rupert Murdock…
(Oh look, a Bullshit Cave)
My friend Hal asked, "Is it a coloring book?". I said, "Maybe Pop-Up"…
Here are some working titles:
-"Hoaky Mom"
-"Abstinence Make The Heart Grow Fonder"
-"The Audacity Of Dope"
-"Rebound-The Saracuda Story"
-"How To Name Kids, And Annoy People"
-"I Can See Russia From My House"
Good news is at least she still has her own Garbage Pail kid card…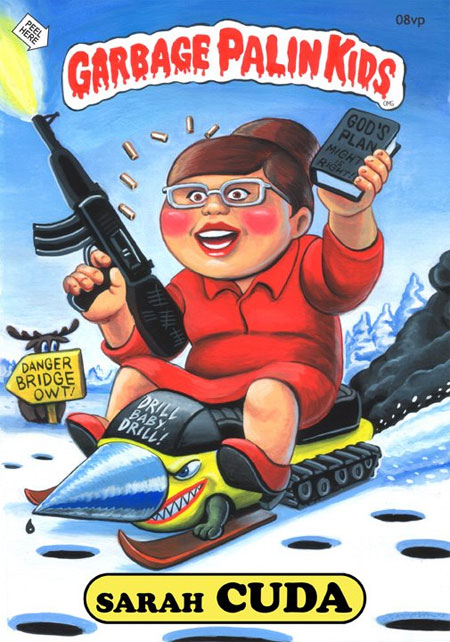 (Where's her Helicopter?)
Two days before the book comes out, I'm going to fart in a box, wrap it up, then send it to Sarah with the outside of package titled "Your 1st offical book review"
Have a day!