You've all heard about Manny Ramirez being banned by MLB for 50 days by now…
But have you heard why?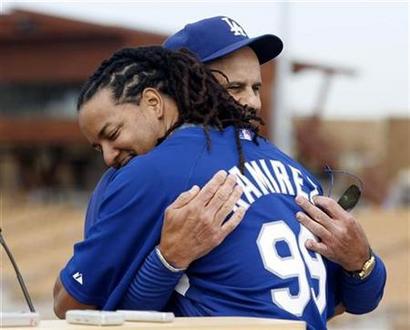 (A budding "bromance")
Manny's nuts are like unemployed alcoholics…they don't work…
He tested positive for gonadotropins LH and HCG which trigger testosterone production. Testosterone's depleted by steroid use, & low testosterone can cause erectile dysfunction. That means Manny's bat won't get hard…
(Nope, nothing yet)
Can you imagine his poor current wife Juliana? After a nice night on the town, they get back to their place, go into the bedroom, and she's expecting this…
(Nice wood)
Only to get this…
(Jello junk)
You really don't have to give the "It's me, not you baby" speech at that point, because when Julina's wearing a sexy cop outfit doing the splits topless and you got nothing; she knows "it's you". Look, when you "takea the roids", you get the Grape-Nuts, and it couldn't happen to a bigger fart hat if you ask me…
Douche Peterson Arrested…Finally
Peterson's shinny silver bracelets really bring out the "prison bitch" in his eyes…
(Smile'll fade when they pull a train on you)
He's charged with the murder of his 3rd wife Kathleen Savio. You remember her, when she was said to have "drowned" and was found, in a bath tub…with no water…
Is anyone shocked?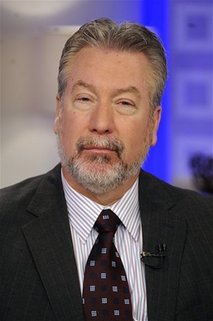 (Separated at birth?)
You shouldn't be. When the neighbors dog knows you're guilty as shit, it's time to stop the freak show express. It's kind of like OJ, but actually charged with murder…
I heard he's going to start his own clothing line from the joint…
(Neat!)
Sharpen up your shives boys, here comes "fresh meat"…
Going to the White Sox's game tonight, here's hoping a baseball game breaks out…
Have a day!