Get out, grab your Neighbors, canvas, call,
e-mail, Hustle. Only Together Can we WIN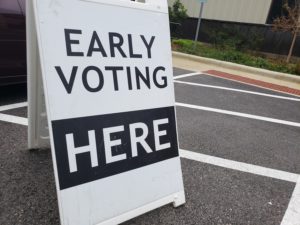 (WAY up!)
This is "One Of The Most Historically" Vital
elections we have had in our Nations Brief
life. These House Races, Senate Races and
Governor Races Are All Tight. It Can ONLY
happen IF YOU VOTE! 'Ignore' The Orange
lunatic. Don't give his Hate Fire Oxygen to
even Breathe. Just Focus on one thing and
one Thing Only. "VOTER TURNOUT". If It's
high. We have a Massive wave crashing on
(They vote!)
their Immoral Racist heads. If not we are a
damaged Nation Who Must Suffer Til' 2020
The Stakes simply Couldn't be Higher folks
Obama has The Best Honest Remark About
Trump & All Republicans Today. It Has The
best impact, Because it is also so Very True
The turn out Right now "favors" Democrats
but Leave NO "STONE UNTURNED", and Go
Out To Get EVERY Voter, Friend, Worker Or
(VOTE!)
anyone Drawing Air to Vote For Our Future
Tomorrow Night, Could be a great night for
America; only if we use all our voting rights
NOTE: Evil, Horrific Unacceptable Shooting Occurs
AGAIN. We, Have Had Enough. Even "Gun Owners"
Have Had Enough, & Are SO Close, To Gun Control
Folks In National 'Polling'. This Madness MUST End
He Was A RIGHT WINGER Incell. Geee, "Terrorists"
Have a day!