The people spoke, Scott Walker won fair & square. Good for him
You voted for Citizens United. You voted to end the Middle Class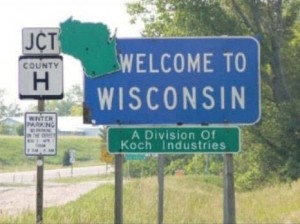 (Yes it is)
Bravo turds. Just know this, you deserve every damn thing ya get
Here's what you lose: unions both public & private, the ability to
Have collective bargaining rights, the middle class, & the ability
(Human advertising?)
To pay all teachers, cops, firemen, janitors a fair wage. I'm sure
That won't cause a problem if your teachers at Wal-Mart wages
But here's what you got: Wisconsin will push towards a Right To
(Drink up buddy)
Work State lowering & depressing wages, end the Middle Class,
Give all corporate welfare in the form of tax cuts, lose jobs, cause
Serious inflation, & create only 2 classes of the mega rich & poor
Hey, you deserve everything you get, & when you're screaming at
(Big date tonight!)
Others to help you, I'll literally laugh in your face & say this gem
"You had a chance to prevent all of this, but you failed in paying
Attention to the EXACT POLICY a person will enact if in office"
Sucks to be you, then again, you still got the Green Bay Packers
When Texts Go Wrong
Hey, it happens. You finished that box of wine, & think, "Hey, I'm
(Dissed on the iphone)
gonna text now, what could possible go wrong". Well….this could:
I try not to text during sex. It's the modern day emery board effect
(Pretty simple)
Either that or I think you're a nymph giving directions to your 9pm
Have a day!