When it comes to our media attacking politicians kids, Glenny Beck says,
"Leave my family…leave people's families alone!"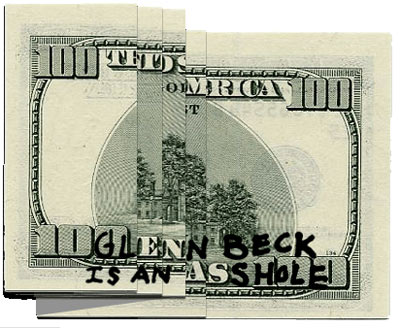 (Good point $100)
He goes on to say, "You don't go after Chelsea Clinton. You don't talk about the Bush kids. Now, the minute they get into politics, that's a different story.
You leave the families alone!"
Yes Glenn, you leave…the…families…alone. Unless it's two days later…
Mocking Obama's daughter Malia in a tiny creepy little girls voice:
"Daddy, why do you hate black people so much?"
(Assface)
Then states, "Did you plug the hole yet? That's the level of their education"
Stay classy Mouthfarter. Oh, I think you dropped this…
(Sit & spin)
Keep the change…
Have a day!