Bravo Kentucky! Rand Paul is your GOP Tea Bagging guy…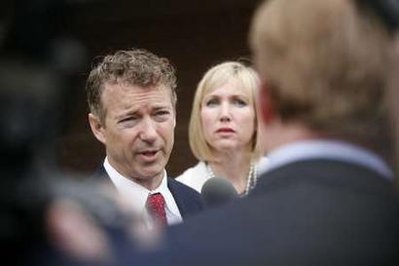 (Give me your $)
You did it. You fought the system. You elected Ron Paul's kid in the primary…
He said, "I have a message, a message from the tea party, a message that is loud and clear and does not mince words: We have come to take our government back," with his parents and the rest of his family by his side, to roaring supporters…
All at a posh country club in his hometown. Nothing funnier than screaming "They just want to take your $ and lie. They're crooks. We have come to take that back. Now please give $350 in cash to us right now in order beat them gumberment types"
Ahhhhh, nothing like good old fashioned irony baby…

Greasy Gulf
When I have a leak, I shut off the water. But ohhhhhhhhhhhhhhhhhhh no. You can't do that with OIL. Oil is different. It's big $. It's sooooo much $, that even loosing all it's loosing is still less than pulling the straw, then placing it back in. WTF?!?!
("I can clamp it by hand")
Pull the straw from the ground, or clamp this shit off morons…
Right now the water is greasier than an Italian backyard swimming pool…
Have a day!