Yes it was a nice speech. Yes it laid out specifics. It was polite. It was "Hey, we can still fix this together". Do you remember "You lie"? Tea Baggers? Birthers?
These people hate your guts…
("Vote for me, Shouter McGee")
I know you deeply want everyone to come together, but there are just some people who will refuse no matter what you do. This was a smart SOTU that worked…
The loudest one in the room isn't always who everyone agrees with. There are a lot of Republicans on the fence between the Tea Bagging hard right & middle Obama.
("Yey! Did he say we get free cable?")
If this speech did anything, it spoke directly to them in the right tone…
I get it. It wasn't as firey FDR or JFK as I'd of liked, but again, it worked. Until I saw Justice Ruth Bader Ginsburg who looked like she was either napping or dead…
(Sheep counting: #478, 479…)
How about Joe Lieberman when Obama said "We will have all of our combat troops out of Iraq by August" clearly mouthing "Sure you will" to a guy on his right?
Classy Joe. When it happens, your home state should vote your sorry ass out…
Take one stroll out on Youtube to the comments. There are PAC's and spammers out there who simply want to take this man down using lies or baseless insults…
Obama's made many mistakes, but he's surely no Bush…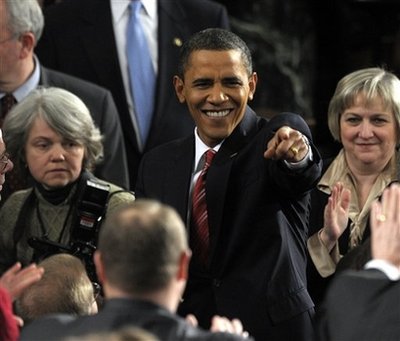 (You lying cocksucker!)
Mr. Obama, it's a sad, sad, sad, place out there right now. Hope can't fix everything…
But some things are worth fighting for…
You have people totally ignorant of the issues screaming insults. You are not magical, and I doubt you can reach these people. They're unreachable. Time to move on…
Have a day!