Of 1st degree douchebaggery…
(Hope one of these opens the cell door)
Balloon Boy's parents are guilty. No surprise. We knew this. The charge against Richard Heene carries a possible sentence of two to six years in state prison and a fine of up to $500,000, prosecutors said. His wife could face up to six months in county jail and a fine up to $750. Bet he goes a away for a while and she doesn't…
They even have a plan to exploit their problems for TV. Richard'll star in the new show called "Be My Bitch!", and Mayumi will star in "Let's Find A New Daddy"…
("Are you my new dad?")
The odd part? For Mayumi's show, they might cast Andy Dick as New Dad…
("Daddy's HOME!")
Meh, it was either him, or the guy from The Dog Whisperer…
Did You…
See the CMA's last night?
Neither did I…
("OMG, I'm more famous than Jesus!")
I heard Taylor Swift won, then was interrupted by Brooks And Dunn…
Finally ending their career…

Bears Must Win
Must win tonight, or season go bye bye…along with Lovie and Jerry…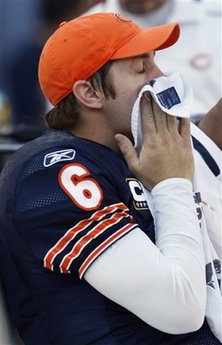 ("I love huffing paint during games")
Buckle up for one wild ride. My prediction: Bears 34 49'ers 17
Have a day!