We are in historic times. These are not only
NOT Normal. A Pandemic Raging, Economy
(Elliot Ness)
in turmoil & one political party who's doing
NOTHING About it. They, Do, not, Care, at,
all. "Immoral Monsters" Unworthy Of office
And in these final weeks, we must turn out
the vote showing that "trumpism" is finally
gone from the National stage forever. Back
to the shadows to rot. BUT, they will Never
be 'forgotten'. Never. Speakin' of gross ass
nothings, Rudy got exposed for exposin his
Ignorance to Borat's Actor daughter. Ooops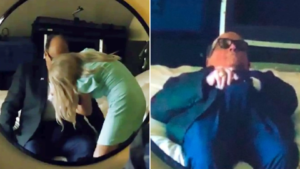 (Ewwww)
And his Excuse to laying on A bed with a 15
year old girl over him? Had to tuck his shirt
in. Ohhhhhh Bull-Shirt! Early Voter Turnout
is surgin. It won't matter unless it keeps on
growing by the day. Folks, this election'll be
won long before November 3rd. Vote, Vote!
Down ballet races matter turn out that vote
NOTE: Obama, Obliterates TRump/Republicans With
statements of fact against all these Immoral lunatics
Have a "Safe" Day!
[give_form id="26992″]