Everythin' is Cancelled. Including our country at this
point in time with Orange Assclown burning it to the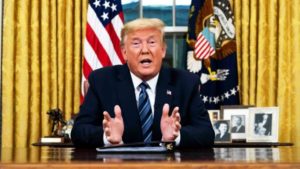 ("Derp!")
fucking ground. Tan Penis Face took to TV last night
to Show The Entire WORLD He knows FAR less than
nothing about This Pandemic. He Also said "Oh fuck,
I got a penmark on me" rather than 'get' the worlds
SHUTTING DOWN and THIS is SERIOUS. We have a
Sociopathic CHILD in Charge, when we need leaders
We WILL Get through This. We WILL Solve all of the
problems Of this Virus Together. But that takes work
It takes Intellect. It Takes Science. It Takes Medicine.
(Bingo!)
It takes EXPERTS. So every Arm Chair fuckhole who
is spewing Nonsense. SIT DOWN & shut the Fuck up
As Markets Topple, They WILL Stabilize. The Bigger
problem is when we Have an Unhinged lunatic that's
ruining Them Daily. Saying NOTHING is Better than
lying and Now "Tanking" Our Entire Economy. STFU
How many of you had Sarah Palin on your card?!?!?!
(OUR turn!)
These are the Worst of Days For ALL OF HUMANITY
Until you think Trump hung with an infected moron
Have a day!