Elizabeth Warren has dropped out of the race,
well, actually her "Delegate count" pushed her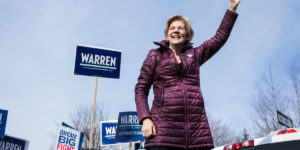 (Endorse Bernie)
out of the race. It's a 2 horserace at this point
Between Bernie, And Biden. The BB's Are Now
shooting to get Under The Skin. ZING! Yeah it
was a dumb Joke. Speaking of Death Virus's &
the morons who enable them; Orange Asshole
keeps on Lying, Saying insane Shit & no one is
even Paying Attention to him Anymore. In fact
he is SO irrelevant no one is listening to all his
insanity anymore. He doesn't 'believe' facts or
science/reality. Which Makes a lot of nonsense
(Hey dumbass!)
The world is Falling Apart and we have a Child
Sociopath Racist Asshole Denying reality Itself
Have a day!