As the entire Republican continues it's demise,
they find new Lows to go in smearin' and lying
(Asshole on left)
slandering A Military Vet Hero. Fucking Christ
Alexander Vindman, a Lieutenant colonel who
served In Iraq(Purple Heart) testified today &
it was just as damnin as the others. In fact, It
Put Sondland In likely Perjury Charges. And It
didn't stop there. He said it was Wrong to do it
"I did not think it was proper to demand that a
Foreign Government Investigate A U.S. Citizen"
It simply confirms everythin the whistleblower
said. AGAIN. That's it Folks. Game, Set, Match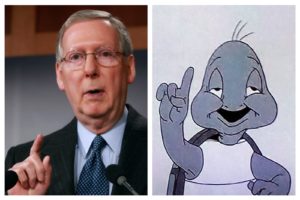 (Oh shit!)
And, Republicans Know it. They Are Trying To
"out" the Whistleblower daily in testimony. Oh
yes, you read it correctly. And while the entire
Republican Party Behind Closed Doors, is now
panicking, polling/re-election problems are all
just STARTING for them. Their own R speaker
Moscow Mitch, Is "Under Water". His Approval
Rating is at 18% & sinkin. Ouch and as this is
all happening, A Formal Impeachment Inquiry
(Boom!)
Vote will happen this Thursday denying all R's
Another Ignorant Process. Happy Halloweenis!
NOTE: Nicole Wallace just Called Out Every Chicken Shit
Immoral Partisan Asshole, Who All Slimed This War Hero
BRAVO! Another New Voice of Reason Screams Out Here
Have a day!
[give_form id="26992″]