In what can only be called, one of the greatest
historic "Unity Moments" our Country has seen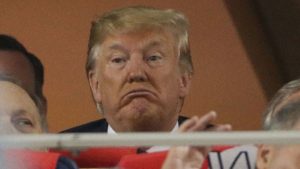 (Boooooooooo!)
in a while; When at The World Series, Trump
his wife & other Republicans were all LOUDLY
"Boooooooooed". It was glorious; to all those
great American's Who clearly see Reality, my
heart is FULL. And the Best Part?!?!? Mocking
his authoritarian hate they all started to chant
"Lock Him Up!". And they Unfurled an big ass
impeachment 'Banner'. These Patriotic Fans'll
always have a place in my heart; bravo they're
(Booom!)
best of us All. There Will Be An Impeachment
Vote this Thursday, just in time for Halloween
BOOM! They are Massively Fucked. And While
Orange anus screams in a victorylap over just
killing 'ISIS Terrorist Baghdadi'; & Military are
pissed at him stating this Happened, "In Spite
of him". Holy shit. Always, thank you to those
who Serve. Your Honor's Boundless, together!
(Nope)
Chicago decided to tell Trump to go fuck off in
a Great Protesting Way Today. Boooooooooom
NOTE: Democratic House Rep, Katie Hill, Has Resigned
She Was the target Of Revenge Porn by an Ex-Husband
She Had An "Inappropriate" Sexual Relationship With a
Staffer. I Don't Give A Shit Who You 'Fuck' If it's Simply
Consensual. She, Should Not Resign. This Is Just lunacy
Have a day!
[give_form id="26992″]