While Trumps Tries to "Spin" His Genocide
of the Kurds (Psssst, it's not Working) one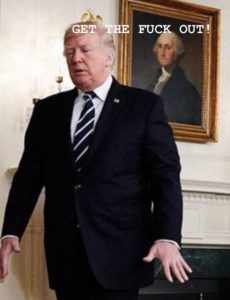 (Yep)
more Rudy Buddy was Just arrested today
AGAIN, At the Airport. Oooooooooooooops
Old Rudy, Is Next up to be arrested. Might
want 2 grab his Passport quickly before he
tries to flee. And today, in the House there
was a Vote against Trumps Syria Genocide
Policy. It Was A 354-60 vote. And who are
Those 60, Voting FOR Genocide?!?!? Check
Their "Political Funding" Now. Right AFTER
the Vote, Pelosi/Schummer Had A Meeting
(<-Mental)
with Trump; where he "Melted down" and
it, was, INSANE. Shouting They Were just
"3rd Rate Politicians!!" And "Commies Are
involved so You Guys Might like that". Ah,
Holy Fuck. Get this "Insane racist fucking"
moron out of Office Now. And Also, When
you See His "Letter" to Turkey's President
it reads Like Something A 3rd grader yells
NOTE: Hero On Chicago 'Red Line Train' Holds Down A
Robber with a Gun. THIS Is what Hero's Look Like and
He did Everything Right. Jean LaPerrie Chicago love ya
NOTE: More people Testifying in Impeachment Inquiry
Have a day!
[give_form id="26992″]