Impeachment Polls are Rising, at light speed
And Republicans, except Sasse/Rob Johnson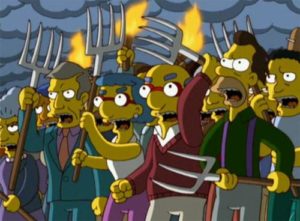 (American Voter!)
are All HIDING from All these Criminal, legal,
realities for Trump causing his Impeachment
Why?!?! Well, Because like a guy in a life raft
walkin Around with metal spikes, he's fucked
Texts between leaders in the White house all
clearly State Squid GoPro. Wait, sorry that Is
Quid Pro Quo. They Confirm his crime that is
already A Crime to Just "Ask". This Tit for Tat
shit Is Extra. And Rump Decided to Go on TV
(TOAST!)
again Today, About His Ukraine Call/More to
say "I have a right to do that!". No, ya don't
fuckstick. And Now, as all The Kings Men get
measured for their "Overdue Corrupt Nooses"
Pence, Pompeo & Barr will be the Next to fall
And The WH's ONLY Strategy? "Stall" Any Of
documents The House Asks for. Ah, that'd be
Obstruction adding another Charge. Ooooops
NOTE: CIA Head Lawyer Made A "Criminal Referral" To
Now Get This; The DOJ. Barr & others 'Decided' Not to
Open One. Ohhhhhh boy. This means Barr get jail time
NOTE: Jussie Smollett Judge Allows Conflict Of Interest
Attorney Remain On The Special Prosecutor Case. WTF?
Have a weekend!
[give_form id="26992″]