It's not just basketball, that's Madness
we like. In Government?! Not so much
(<-To Hate)
Trumps Travel Ban was knocked down
Aaaaaaaagggggggggggaaaaaaaiiiiiinnn
It always will be. It Simply Violates the
'Establishment Clause'. A Hawaii Judge
already stopped it. There was No Truth
to the Orange Anus's tweet on the wire
tapping lie. Now it Appears That Flynn
lied & violated our Emoluments clause
by accepting $45,000 all from Russian
business in government. Ooooooooops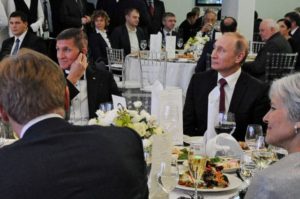 (Flynn on phone)
Dipshit is "Actually" on camera stating
"I didn't take, Any Money from Russia,
if that's what you're asking me". Yeees
you Fucking did!!!! Never before in US
History has This "Level" of Dysfunction
existed in the Oval office. Think of that
NOTE : Trump Key Backer In OK Found
In A Hotel Room With An Underage Boy
Ralph Shortey (You so Can't make these
names up) Is One Suck Fucker, And Just
The "Kind of Guy" Trump & Republicans
Love. So, See The List Of Them All Here
UPDATE: Well Spicer Is Short Circuiting
Quickly, Because, He Can't Answer Stuff
Have a day!