Bernie lost KY by a point. And
honestly, it's "Sketchy" at best
(Berngaism!)
and 'Illegal Voter Suppression'
at Worst. At this weekends big
Nevada convention leadership
CLEARLY suppressed Sanders
supporters Voice Votes. And in
Ironic fashion one of the items
they were 2 vote on was if any
"Voice Votes" should be Taken
(Upsidedown sign)
'Establishment Democrats' are
in "big trouble". You Can't just
"steal" things. You must EARN
them. As this story goes along,
we will See some Serious SHIT
going on as Transparency goes
ON. And, it ain't going to be so
Pretty, for Roberta Lange, who
("Wha happen?")
"chaired" this insane shit show
The problem?!?! Obvious clear
transparency. And now it's not
VOTE, VOTE, VOTE, VOTE!!!!!!!
Drumpf Doppelganger
Carlos Beruff, Is A Real Estate
developer running for office in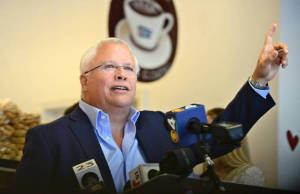 (Creepy Albino)
Florida. He went racist SO fast
"Unfortunately, for seven and a
half years 'This Animal' we call
president, cause he's an animal,
okay, seven & a half years, has
surgically & with thought & very
smart intelligent manner, ruined
country & dismantled the military"
Forget he 'hasn't', our Military
Spendin is still 1st in the entire
world by a "Massive Landslide"
It's that overt racism at play &
it far too often for Republicans
-"Racist Idiot Republicans" Are
Nothing New These Days, but I
Repeat Myself. "Forget" he will
(<-BIGOT)
lose badly. Our choices are now
A) Crazy loud racist bullies and
B) Plutocrat lying cheaters who
Stop Our Democracy just 2 win
Voters want realchange not the
Usual Bullshit Fake kind. Ooops
NOTE: Asshole Chicago Cop On
Tape Beating A Suspect In Cuffs
(Yes we all know some suspects
will claim "I'm Nuts". Let All The
courts sort it out. You are not all
those steps in a fuckin' fist idiot)
UPDATE: (11:07am) It Was .05
Win For 'Clinton' After The 'Total'
Which Is A Statistical Tie To ALL
Have a day!