Drumpf has the intellectual depth of a
husky 4th grade playground bully who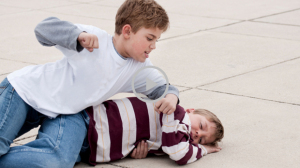 (Only Tactic)
is "Hopped up" on Sugar, & pop rocks
He uses "Nicknames" in an attempt to
avoid any/all Serious, Rigorous, policy
discussions. Simply put cause he can't
do that. If you Can't 'Swim', You Avoid
WATER. So, He Called Sanders "Crazy"
Bernie. Oooooooooo what a bern (rolls
eyes). See in an 'real' Debate, Sanders
would Destroy Him. He's actually been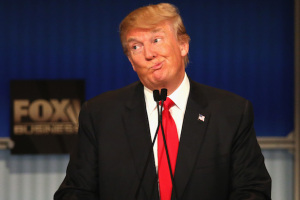 (Can't hide!)
in governance…..36 years. The second
Trump tries the shit he did in their big
clown car primary, he has a man who's
standing to the far left of him on every
issue. And the issues where they might
agree a little, Sanders Already DOES it
and HAS Done it. Why Take The 1/9 of
what ya want when ya can have 100%?
It would be like a Bully, trying to Bring
(Ooooooops)
a "seasoned", 'intelligent', policy heavy
teacher or Principal to Heel. They "eat"
ALL THE Fuckers like This for Breakfast
NOTE: Ex-Second City Alum Stephen
Colbert Does Perfect Satire Of Trump
NOTE II: Trump Will NEVER Release
His Tax Returns It Would Expose The
Lies That He Is Worth 10 Billion. He's
Not, And He Knows This Fact So Hide
Have a day!