You've all heard about Tracy Morgan's rant against homosexuals by now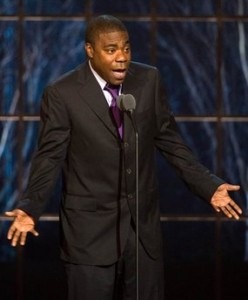 ("I done fucked up")
If not, look next to you, your roommate Bin Laden might be dead…
Rule #1 about Homophobe Club, you can't talk about Homophobe Club
Rule #2 about Homophobe Club, never piss off the Velvet Mafia
(Snaps hand in air)
(Honestly, that looks a little gay)
He's now doing his mea clupa all over, which he honestly should
I mean, he said some serious shit about them, not nice
"My son better talk to me like a man and not in a gay voice
or I'll pull out a knife and stab that little n-gger to death"
I'm surprised Tina Fey's Bossypants big hand didn't smack him in the head
(WHACK!)
But what made my irony meter explode was this:
It's odd when one minority verbally discriminates against another minority
It's like seeing two groups who should naturally be allies, start fighting
Wake up goof balls, embrace "the gays" or you basically end up mocking yourselves
He apologized, so all is forgiven…probably in spectacular "show tune" fashion
Stewart Simply Real
Jon went on FOX, and simply was honest. It ruins the partisan air at FOX
When 100% honesty level are reached in any programing. An alert goes off
(True)
He spoke with Chris Wallace here
Wallace And Vomit thinks Stewart is a partisan looking to be active politically
Um, no. He's a comedian doing YOUR JOB better than you. Good luck
Have a day!