Bravo Wisconsin! You sure took those fat cat teachers to the wood shed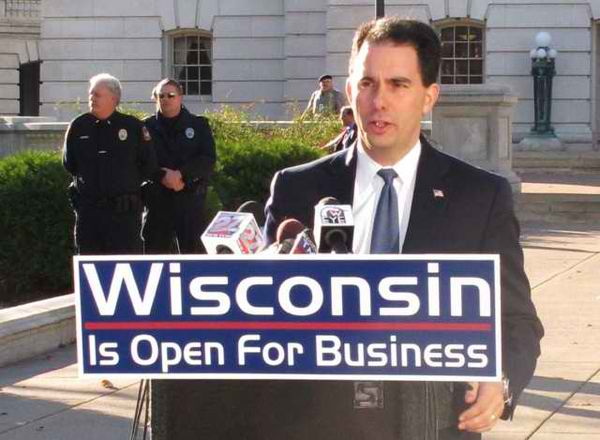 (It said "Businesses" not "teachers")
In a "move" labeled a big ass "sucker punch" to working families
"Walker Tall And Be A Big Prick"
Along with all Wisconsin Republicans but one in the legislation
(*Photo caption)
*"And then I'll take all public teachers collective bargaining rights away!"
(Crickets)
"Who wants a free kitten?!?!"
They pulled the "ending collective bargaining rights" part
Out of the spending bill so they could vote on it without any Democrats
Because you can vote on some non-spending items without a quorum
Ohhhhhh, but this is ALL ABOUT DEFICIT SPENDING RIGHT?
Nope, like I and others said over and over. Never was, and he proved it
("Wait, ur the real Koch brothers?")
After the fake Koch brothers call, and national polling numbers hugely against them
They smell the "recall" coming from pissed off Middle-Class workers
Now that rational Wisconsin folks and all of America sees it
They had to act NOW, no matter if it was underhanded, or illegal
But you see, it also turns out
You can't violate the Open Meetings Law which they did
See you in court you lying puddles of panther piss
They, and all Tea Party folks will look back on Wednesday March 9th, 2011
As the day they lost all the 2012 elections badly
Seen In The Chicago Today
Buff guy walking around with Charlie Sheen "Winning" t-shirt
(Nice, Cheeto's orange)
Striking out big-time with the ladies…
The irony was lost on him
Have a day!