Quick question…
When Tom Delay goes on Dancing With The Stars for occupation do they put "felon"?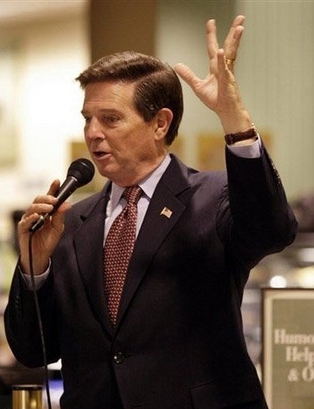 ("The sky rained $ so I took it")
Tommy Salami was playing hardballs with Chris "leg tingle" Matthews, when he deliciously decided to "out" himself as a "birther". Check it out…
(Hoping for a Heather Mills Part II?)
My favorite part had to be, when Tommy said, "Will you ask the president to show me his gift certificate…I mean his birth certificate"
In fairness to Tom, they do have a "8 for 1 birth gift certificate" that only applies for people named Jon and Kate who are totally shit flinging nuts…
(The call of Chutulu)
Why is it that people who are totally unqualified to even own a gun, drive a car, or manage their own fucking lives decide to bring other people into their big ass mess?
They're a psychiatrists wet dream. You could own three houses, a yacht, and a summer home from these freaks…and that's only treating three of them…
(Cured!)
Meh, Tom's like Blue Dog Democrats. Used to lying so much, he wouldn't recognize the truth if he knocked it up and had "truth babies", who would be messed up…
Sony Announces Call Of Duty 6-Real Fucking War
No longer will kids ever have to just sit around at home on their couch playing games "designed" to look and feel like the real graphic intense action of war…
(Shoot stick go boom)
In conjunction with Sony America and the US Army, now kids can enroll or what they're calling "enlist", and in just 8 short weeks be pwning people for realz…
Sony North America president Turk Punchit said, "Shit it's cool. We're not even designing games anymore. Kids are just enlisting in our Call Of Duty 6 package, then the Army gives us $500. We could bust our asses to sell 500,000 units of a game at $60 a piece, or try to con 600,000 lil' shits into joining the Army for more $."
(It's SO real)
After the 1st kill a common question for gamers is, "That was cool, now can I go home?". Which is always answered with a firm, "Hell no solider, get back on your post shit face!" from a large, loud drill sergeant. Anyone who refuses are being branded for a new series cleaning latrines. It's titled Call Of Dooty-Clean It Up…
Have a day!