Guess he just had a gay attack then…
(Insert wenis in hands)
You might have heard of these. They're common in religious leaders with 6 figure salaries. I guess they're like panic attacks, or anxiety attacks, or three hour rendezvous at the Knights Inn having ass sex with a dude…
Most people call that gay, or at least bi-sexual. I could care less what you do, but be honest with yourself. Ted said, "I felt like God's plan sexuality was for me to be in a monogamous, heterosexual marriage," he said. "I wanted that. But at the same time, I had these other things going on." Yeah, like having ass sex with a dude…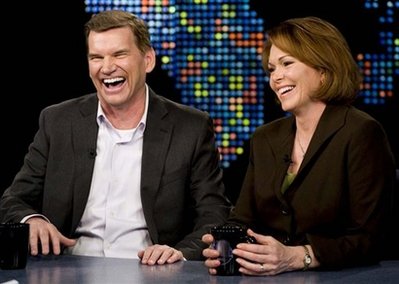 (His wife lika da money)
Haggard then likened his struggles with his desires to the struggles faced by dieters who say, "'I'm not going to eat today' and then they eat." He forgot to mention they were eating penis…
I guess sometimes he accidentally eats a "gay" breakfast, and other days he eats a heterosexual one. Other scientists say people can slip and fall, instantly making them super gay…
It's all one PR stunt to sell his HBO documentary called "The Trial of Ted Haggard"…
In other news Blagojevich can fly, smoking is good for kids, and Israel loves Hamas…

Children Congressmen
All I can say is, it's about time!
(Juice boxes & Legos after work)
Free at last, free at last, oh lord free at last. Now when they wine, squabble and argue at least it makes sense…
A recess will actually be recess. They have also brought in cots for mandatory afternoon naps. Some new rules in place are: Everyone shares the gavel, if you bring something for yourself you must have enough for everyone, no sticking out your tongue, pulling hair, making faces, or being disruptive during bill passing. Failure to comply with result in a time-out…
For effect they're adding creepy lunch ladies with drooping hosiery, facial flaws, and hairnets to the cafeteria…

Rods X-Mas Card
(Stay classy Rod)
Enjoy Superbowl weekend, and have a day!