The economy is terrible, we're at war in two theaters, and people are loosing their jobs; but the biggest issue we will face as a nation is Chipmunks getting high…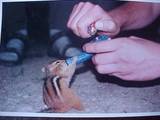 (Know your dealer)
Woodland critters don't have to be drug free, it's not like Mother Nature does extensive drug testing. It does bother me if I see one doing kick ass Tai-Chi in the park, and then find out it's only because their really fucking high…
I'd like to think they could evolve on their own. Knowing it was drug induced taints it. It's like players juicing in baseball. It ruins it knowing it was "enhanced"…
It does explain Alvin, Simon, and Theodore….

Women Gives Birth To Octuplets
Then shuts down vagina forever…
(Happened after Pluto Nash played)
The mother gave birth to six boys and two girls weighing between 1 pound, 8 ounces, and 3 pounds, 4 ounces. Afterwards an exhausted mother said, "Get that microphone out of my face before I shove it so far up your ass, you'll be able to turn it off with your tongue. My husband lost his job, the economy sucks, and now we have eight mouths to feed".
Her despondent husband said, "Great, I loose my job, and now she shuts down her tuna tunnel forever. Shit, footballs almost over, now what I do for fun? Use my hand? No way! That's why I got married in the first place"
Good Advice
(Take their internet away)
Have a day!