I came home early and found my cat Jingles like this…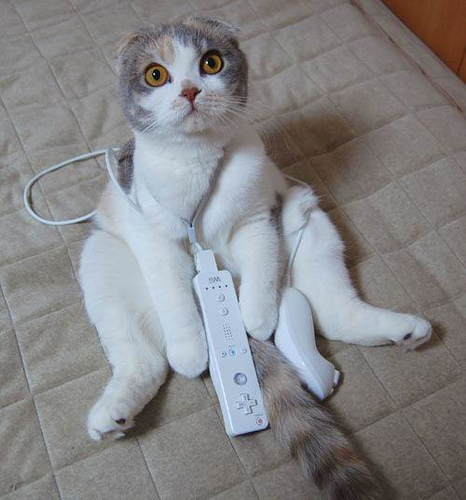 ("Covr ur eyes from myz shame")
For true. People who own Wii's have noticed the console moved or a window broken when they get back home and wondered what happened. It's a serious epidemic sweeping across the nation called Feline Wii Addiction. Sadly, it strikes 7 out of 3 cats…
Have a heart people. These poor cats are playing games like "Napping On Clothes", "Chase The Light", and "Catch That F@#king Bird" for days on end until it sets their little furry internal clocks off. Now much like heroin addicts and Eskimos they don't know what time of day it is and think at 11pm it's time for breakfast…
The really sick part is now some cats are even getting weight conscious so they're starting to use Wii Fit to shed a few extra of those pounds before spring when they go into heat…
(Bacardi does yoga)
Only you can make a difference, only you can help end this tragic nightmare…
Please send check or money to:
The Greater Feline Wii Addiction Society
151 South Rosemary Street
Coconut Grove Miami, FL 33133
401-992-4050
Man Wants Kidney Back
When they were married, a New York doctor gave up one of his kidneys to save his ailing wife. Now they're getting a divorce, and he wants it back!
(Mustache rides!)
Dr. Richard Batista said Wednesday he is suing his estranged wife, Dawnell. Since he doesn't really expect her to return the kidney, he is demanding $1.5 million in compensation instead.
You can't really "Indian Give" human organs captain spank sauce. It's just the rules…
Who does he think he is, the fucking "organ library"?
Jeez, if we were friends and he tried to lend me condoms one night, I'd know better…
Here's a list of things you shouldn't borrow from Rich:
-Toilet paper
-Insulin
-Dinner(unless you're bulimic, then have at it)
-Underwear
-Hair
Here are things you should borrow from Rich:
-His car filled with gas(return it on empty)
-Sense of shame
-His wife
On the idiot scale from 1-10, he's a 17…
Jesus Says
To George W. Bush…
(Christ can dunk)
Have a day!