Life imitates film…
In the movie Anchorman, starring will Ferrel and directed by Chicago's own Adam McKay, Ron Burgandy tries to sabotage the career of rising star female co-anchor Veronica Corningstone. Welp, so did 51 year old Philly news anchor Larry Mendte to co-anchor Alycia Lane…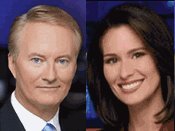 (Hint: Larry is on the left)
He hacked into her personal e-mail, leaking gossip that contributed to her downfall…
Proving once again we do have equal rights in America, cause when it comes to the news, men can be just as catty, bitchy, and deceitful as any woman…
He was sentenced to six months "house arrest". Then decided to pull a Ferris Bueller by hacking into the courts computer and reducing it to 1 month. Hows that for being born under a bad sign?
(I hate "isms" too)
Now They Want to Bail Out Citi-Bank!
Weeeeeeeeee, the hits keep coming. The economy is this…
(Valet gone wrong)
Everyone's standing around, scratching their heads, then dumping more water in…
It'll get better fast! Obama's talking about extending the Bush tax cuts until 2011…
Thanksgiving Holiday Grandma Kisses…
(Yaaaagummmmmm)
"Really, the whole face grandma? I think you have my eyeball in your mouth…"
Show tonight, go have a day!