Here's the plot: Bella Swan is a clumsy, kind hearted teenager with a knack for getting into trouble. Edward Cullen is an intelligent, good looking vampire who is trying to hide his secret. Against all odds, the two fall in love but will a pack of blood thirsty trackers and the disapproval of their family and friends separate them?
(My hot Vampireness will keep you warm)
Greaaaaaaaaaaaat, it's The Hills, meets Romeo & Juliet, meets vampires…
With a name like Bella Swan & having Robert Pattinson in it, don't go. Unless you're ready to have your ears raped by 12-17 year-old girls cooing with hormonal delight…
Ebert gave it two and half stars. He's been giving anything with a heartbeat almost 3 stars or four lately. This will blow chunks. If you want a great vampire movie try Salem's Lot, From Dusk Till Dawn, or Blade…
Ted Stevens Loses Re-Election Bid In Alaska

Gee, I guess if you get convicted on corruption charges before the election, it does effect the outcome…
(Crazy train)
Who knew? Alaska said, "Thanks, but no thanks" to "intertubes" Ted…
The new senator in Alaska in now Democrat Mark Begich, who will be officially changing his name to Mark "I have some emotional" Begich…
After serving, he wants to go into law, pro-wrestling, or porn…
Your Relationship Is Shaky If…
You see this in the paper…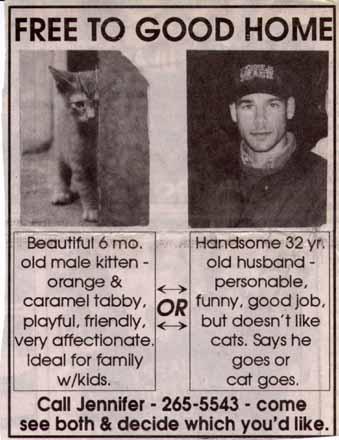 (I called, it was a VD Clinic)
Take the cat. And I don't even really like cats…
No show tonight, go have a day!