Joe Biden & his administration are all
tryin To avoid a Rail Strike. And, it is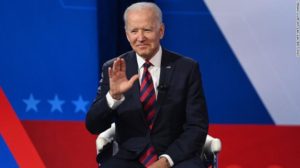 (Got this!)
actually Working. Do You see What is
possible when people Work Together?
Many hands make Light work and the
key Is "Good Reasonable people". The
best In All Of Us Is Rising & there Are
no limits to what we Can ALL Achieve
"This Erection is about the people" uh
Come again?!? Wait, no actually don't
Walker Is Falling Fast in Georgia, only
if WE VOTE!!! Turn out Or The Senate
(<-Moron)
can't pass historic legislation like they
did "yesterday"; with The Respect For
Marriage Act" protecting Gay Marriage
from The Reich Wing Scotus. Whooot!
RIP: Christine McVie has passed away at 79
She Was a Key Member of Fleetwood Mac &
A true musical Legend. What magic they did
Have A Day!