This election is the most Important
election in US history. In fact every
(Boom!)
Election Will Be From Here On out
And with Early Voter turn out goin
thru the Roof At Historic Numbers
GQP/2020 Election Deniers Are all
Already Preppin' For Their Defeats,
they're dialin up the Threats, hate,
& Violence; the reason? They know
they don't have the voters to win &
Were Shown Polls where they Lose
so they prep for this illegal vile shit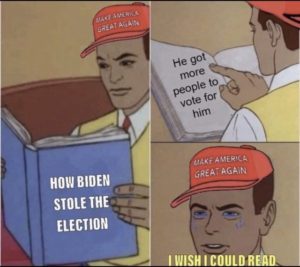 (Zing!)
It is basic objective electoral voting
Map Math. And None Of This even
matters IF you don't Turn out, and
Vote! This must be historic #'ers &
leave No Doubt about Our Nations
Democracy. If they "Win", Your SS
Goes Bye, They'll Enact A National
Abortion Ban and hand Tax cuts to
the Top 1% Again Crashing Our US
Economy; again. And Orange Anus
is in WAY more legal trouble with a
(He gone!)
Judge ruling today forcing a Special
Monitor To STOP All Of Their Fraud
NOTE: NJ GQP 'School Board Member' Thought It'd
Be "Hilarious" If Went as the Pelosi felon attempted
Murder On Halloween. WTF?!?!?! Fire These Ghouls
Have A Day!