The 'Entire' Republican party in
Congress today Is A failed joke
("Dumbass R's")
In fact, They've now Become A
Loud, Lying, Hateful, bunch of
Anti-Military 'Brats'. For Sitting
R's Berating the Military heads
in a "sham" hearing. For a pile
of Non-serving Assholes, They
sure tried to Attack/Berate em
for dirty political games & had
the exact Opposite effect. And,
In 'One Exchange', Matt "Pedo"
(Bingo!)
Gaetz is totally clueless about
his own 'Projection' Hypocrisy
screaming About: "Failing Up"
These immoral Criminals, Are
nothing Monsters About to hit
"peak schadenfreude" quickly
Speakin of comeuppance, it's
No Surprise R-Kristi Noem, is
now Under investigation for A
favor For Her Daughter, while
she's also Accused of An Affair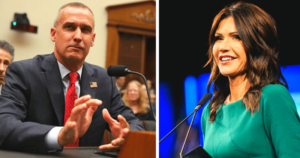 (Oooooops)
Down Down down they all Go!
NOTE: Military Moron, ignores her Sworn Oath,
Rules of service, Violated UCMJ & science, then
E-begs. The door can't hit your ass fast enough
Have A "Safe" Day!