As I warned & posted here before
Our Democracy, Was in 'Dire Peril'
(<-Terrorists)
on January 6th According To our
General Milley Saved-Us. And It
still Is today until Consequences
are felt/seen, we all knew it was
A Coup. Well…No Coup For You!
And, Make No Mistake, With Out
SEVERE Consequences for these
Criminal/Fascist Acts, they'll Try
it Again. That's why the hammer
is Falling on them all hard and it
Should "Continue" To Hurt Them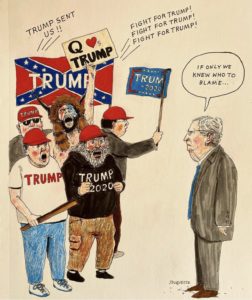 (<-Criminals)
Legally, socially & Criminally for
ALL Of Them. These Committee
hearings Will Be Devastating for
what's Left of The GQP. After all
even THEY know who did this &
Liz Cheney 'Bluntly' Screamed it
dunking On Jim "Pedophile help"
Jordan who Offered To Help her
& take her hand: "I smacked his
hand away & told em "Get away
From Me, You Fucking Did This!"
(She's correct)
We Have 'Sitting Republicans', in
office Who're directly responsible
for these terrorist acts. They, are,
all fucked. Down, Down they'll go
NOTE: A White Supremacist Terrorist Group
in Florida has been Indicted. 16 Members of
this terrorist group will be goin to jail for the
rest of their short lives, they committed acts
of Murder, Kidnapping, protestor assault and
Storming the Capitol on Jan 6th. Racist fucks
NOTE II: Cuba protests show the shit results
of Communism. Hopefully treating It citizens
with Vaccines/Economic Opportunities/Social
freedoms. Miguel Diaz-Canel is in "deep" shit
Have A "Safe" Day!