We have a Republican Party who
is Objectively A Terrifying mix of
(We Know)
severe 'Mental Illness', Limitless
Ignorance And 'Dunning Kruger'
a Woman In Ohio stood Up, and
claimed the Vaccines have metal
in them to magnetise Spoons, &
other metal Objects to our heads
Bonkers, Party of One, right this
way. She Also said, the Vaccines
have an "Interface" With 5G. Oh,
great. Come this Way please, we
Want Your 'Padded Room' To Be
extra comfy. We need a national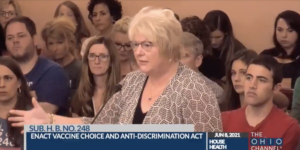 ("I'm bonkers!")
firm pushback Against this idiot
lunatic stuff. Or you Get "Block"
Head utter Fucking morons like
Louie Gohmert, "Who" Actually
asked, "Can We Change Planets
orbits to Stop Climate Change?"
Holy Fuck, that's a new level of
"Stupid" that 4th Graders know
the Answer Is, "No!". Jeeeeeeez
Again; They Are Not A 'Political'
Party Anymore; it's a racist cult
fracturing by the Day. And Now
(Ha! No)
that world See's it Schumer has
The Votes to Go It "Alone". See,
there is No Way to Work With a
side that Refuses Everything, &
doesn't Live In Reality. It's Over
NOTE: Brexit "Clown", Criminal Liar And
Fraud Michael Gove Has Broken The Law
giving 'insider' Contract deals to buddies
The Brexit boys will all fall down. Oooops
Have A "Safe" Day!