Elections matter, voting really
matters. In Fact, It's A Matter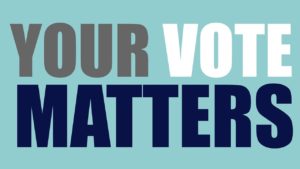 (Vote, register!)
of Life & Death In this Nation
Very Serious Business People
The "difference" between our
government workin' for all of
its voters, or only for just 1%
Of Them. Which, is Why That
Last "Night" Matters, In New
Mexico. If the D's don't ramp
registerin voters, keep on all
Pushing A 'Positive Economic'
message Of Biden & Turn out
(Boom!)
voters; it's all For Not. Voting
doesn't take a Break or a day
off. It doesn't take an election
cycle Off. Every, damn, day it
must Keep Striving To Get so
much better. Republicans are
Doing Everything To Stop D's
from Voting. So the work has
to Be 5 X's As Much. And, So
What Are Republicans Selling
their base of Suckers?!? Well
a Never Ending String of lies,
(Bingo!)
Racist Hate, & Bullshit. They
will no survive. Shit is so bad
they have Dopey R's who are
running for Office With shitty
insane ads lighting masks on
fire with such Cringey results
NOTE: Now "Republican's" Who Are Totally
Detached from all Reality Refuse to debate
Well, Since they have Nothing to run on, it
makes sense, can't debate reality anymore
Have A "Safe" Day!