Joe Biden & Kamala Harris are not messing
around. The Gloves are Off & The President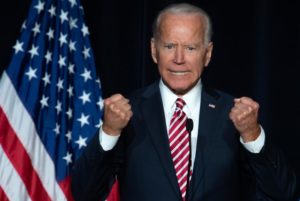 (Bap!)
Elect/Harris are Swinging back HARD. See,
when The ENTIRE Republican Party Hasn't
done A Single, Fucking, THING to Help our
citizens in '8 MONTHS' during A historically
deadly pandemic…they own it all. We have
lost 314,000 People and counting. Make no
mistakes here. While Democrats do control
the House, Mitch / Republican Senators Are
ALL Stopping "ANYTHING" From Happening
And we have A Great chance to change that
(Jan 5th, VOTE!)
On January 5th, 'Voting' In GA For Warnock
& Ossoff. Both Democrats. Things have just
Gotten So Bad, tRumps 'Neighbors', in Mara
Lago are Suing him Since it just can't be his
permanent home. Oooooops. What a douche
NOTE: Pete Buttigieg Will Be The 'Next' Transportation
Secretary of the US. He's MORE than ready for the job
Have A "Safe" Day!
[give_form id="26992″]