Things have gotten so bad, now FOX has turned
against Trump. Well, More Like They Decided to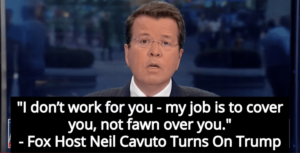 (No Shit!)
accept reality vs a fatloud racist child who won't
No matter, Reality believes in him. And while he
Is "Playing" with Citizens Lives, he Couldn't care
less About minority communities. Yeah you read
that right. And shit has gotten so bad that Nancy
Pelosi is now name Calling Saying that Rumpy is
"Morbidly Obese". Damnnnnnnnnnnnnnnn. Burn!
Newsflash, he's Not. He lied, again. And his Idiot
(Little Kid)
response to her silly slam comment was just base
projection 101. He's In A lot of Trouble Folks, & it
will get Worse with Each Passing day. Just book it
NOTE: The BEST Cost-Co Employee, You Will 'Ever' Meet
In Action. The entire World Applauds him for Being Sane
RIP: Marc Maron's Love was A Creative Super Star & She
Passed Away Suddenly. This Is Sad, And 'Horribly Wrong'
Please Remember the name Lynn Shelton. She is Legend
Have a "safe" day!
[give_form id="26992″]