While the Orange Anus Is Imploding at Light Speed
and Taking Over 74,402 Lives with him; the rest of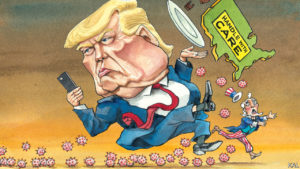 (We know)
the rational world is coping the best we can. These
are hard days, the darkest & yet there is light. And
it Shines Through with each Act of Kindness, Valor,
love, dedication & Sacrifice. You know, the shit we
ALL Used to Stand for In this Country. The Medical
people Serving the front lines of this Virus War are
the only reason we Haven't been overrun yet. And
the People who MOST Deserve Our Praise and Our
love. We Will get Through This IN SPITE of Trump,
(We Know)
never because of him; and that says stuff about us
Assholes & Morons Are NOT who We are and those
immoral Domestic Terrorists Will Not Stand. Never
Have a "safe" day!
[give_form id="26992″]