Yes, it's a Magic Monday folks and that means
buckle up your fannies, cause the Orange One
(Yes it is!)
is about have the worst week of his life. Which
is news to the ears of all people who value any
shred Of Justice, Humanity, Compassion and A
smidgen of love. Mueller is Comin' to testify on
Wednesday. Act Accordingly. It won't be some
massive Theater. It Will be Pretty Simple. He'll
refer to his Report, stick to the facts & be brief
It's Up To The Democrats to Ask Specific HARD
(Indeed!)
hitting 'Succinct Questions' that He/His Report
directly Answers. DO, NOT, MAKE This Political
Keep It, "LEGAL". The Entire Republican Party,
save for 2 or less, Will "ATTACK" Mueller. That
will Backfire Badly. Speaking of Backfiring, the
entire state of puerto rico protests have sent a
loud message that freedom rings. Their voices
are Loud, Specific & Demands Ricardo Rossello
Resign NOW. Forget His "Chat" Of Hate is Now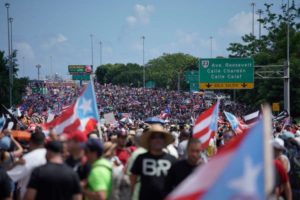 (Huge turnout!)
known by all. He won't seek Re-election in 2020
but Citizens are Demanding he "Step down" now
NOTE: Trump & Dems Reach Budget Deal And We Must Look
Closely At WHAT is In This Deal To See If It Is A Compromise
Have a day!