We Have Republicans Openly Saying "Yes, I will
still support A "Racist" for President, so what?!?"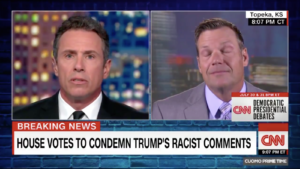 (<-Bigot Ass)
As Republicans, ALL But 4, keep both defending
and supporting Trumps racism……shit got worse
We have A literal Nuremberg rally with Immoral
vile Racist assholes chanting "Send her back!" &
of course they are All Referring to D-Ilhan Omar
And 'Republicans' Now ALL Defend Trump While
tryin' to pretend they disagree with the hate. Oh
FUCK NO! Right now, they OWN All Of This Hate
If You SUPPORT The Person Saying, Stoking and
(No shit!)
PROMOTING this hate. You Fucking support the
HATE! Son of A Bitch this is immoral evil that is
also Massively ILLEGAL, To 'Incite' Any Violence
Against Sitting Congressional leaders. OMG!!!!!!
And Orange Fucker lied, lied, lied Again and lied
some more by claimin' he didn't approve of that
hate chant even Though he Directly TWEETED it
and those Racists repeated It. This will not stand
And in today's Legal trouble, as I said her before,
(<-Pure Evil)
Epstein Bail was denied meanin' he will likely die
in Jail When Found Guilty. Only ray of light today
NOTE: House Votes, To Raise Minimum Wage To $15 And
That Means…….NOTHING Because The Senate Won't Take
It Up This Way, Which Is A Useless Political Theater Show
NOTE II: A Racist ASSHOLE In Naperville, IL Fired For His
Overt Hate. This Is just UNACCEPTABLE & Has No Place in
our society. If you want to be Racist, keep it at home or in
a "Club". When you attack other citizens, it's illegal. That's
called Fighting Words & Assault. BOTH are against the law
Have a day!