This "Humanitarian Crisis"…will not end Well
at all. These immoral racist monsters will all
(<-Cartoonist Fired)
pay for their Hate legally speakin. They are
Concentration Camps /Prisons. And, "Illegal"
ones At That. They Are Underfunded, Shitty,
intentionally Raw/Denied basic human rights
and EVERYONE "Responsible" will go down in
this Immoral Fucking Mess. AOC is On Those
front lines "Fighting" every day. And you can
bet our courts will be punishin' these Fuckers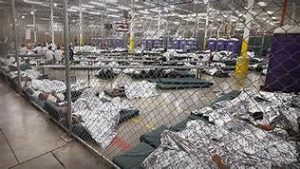 (<-Criminal)
to the fullest Extent of the Law. The problem
for all these Immoral racists fucks it that this
is All WELL DOCUMENTED For Legal Reasons
NOTE: USA Women's Soccer Team Advances To The
Finals With A 2-1 Victory ,Over England. Way To GO
Have a day!