In Trumpland, he's Running out of Time and
with walls Closing in will try the ol' "But, but
(Oooops)
Obama Had an FBI Agent to get me". Forget
It's ALL Republicans at every level right now
who started the investigation: James Comey,
Mueller, Rod Rosenstein, ETC. Forget, Trump
lied In Claiming The Steele Doiser Started It,
when it was George Papadopoulos Telling an
some Upset Australian Officials, Who in Turn,
told our Agencies back. Then they opened an
Investigation. Ooooops. Desperate times call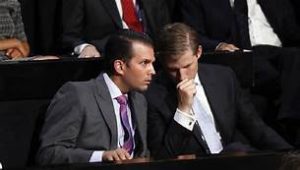 ("You're fucked")
for a fresh insanely dumb new slew of tweets
& Melt Downs by Trump. It lets you Know he
knows it 2…..it's almost over. This isn't some
fuckin game. Our entire country hangs in the
balance. Are we a Nation of Laws that punish
overt criminals or not? If not it's a free for all
Speaking of possible horrors to come, after a
shooting, Republicans only say Shit, they will
NEVER do Shit. They Are All bought & paid 4
(Uh-oh!)
by the NRA. Lobbyists Run Policy, citizens do
not. THAT needs To Change. Demand change
at The Ballot Box. Vote Only For Those who'll
take No $. Send a message & vote Vote Vote!
NOTE: Mueller Expands Investigation While It Is
Clear Trump/Crew Financially Sought Saudi Help
This Is "Clearly" ILLEGAL & It Will Add To His Jail
Have a day!