Trumps pet Rudy Is not only making a mess on
all of America's rug….he's now publicly eating it
(Crypt Keeper)
Yes, On CNN, he Had To Pretend That a POTUS
does not ever get subpoenaed. 1st off yes they
fucking Do. And 2nd, Rudy Himself SAID It For
Bill Clinton 20 Years Ago Not Only Proving Him
a big fat liar, but confirming he's just a partisan
fuckabout hack who Doesn't know the law at all
He Wasn't Mad At Cuomo, Showing His Obvious
partisan hypocrisy. Just mad he found it. And it
signals the end of a guy who never had any real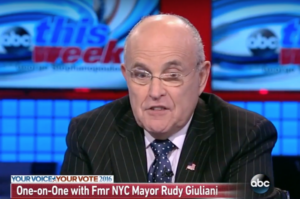 (Crooked SOB)
"beginning". So long fucko, Enjoy Your Demise!
Now, Another 'School Shooting', More 'Horribly'
dead & Partisan Republicans/Some Dems, Who
are 'Owned' By The NRA All Do NOTHING. Take
your "Thoughts & Prayers" & ram It up your ass
You not a Good Person, a Christian, or remotely
Hold Any Morality. They Picked $, Over Children
And all of History will judge you correctly as the
(So, Nothing)
soulless Sociopathic monsters you all are. They
will ALL be Correctly Charged as Evil by History
Have a weekend!