The Walls Are closing in on Trump, his
administration and all the Russian toys
(Treasonous Shits!)
that were Directly Next to him during a
crazy Racist Campaign. 1st it was Flynn
who Registered As A "Foreign Agent" &
WAY After all the Crimes he committed
with The Justice Department. So now a
2nd Defector, in Ex – Campaign Manger
Paul Manafort (Appropriate Name since
he must build a legal fort outta himself)
now doing the Exact Same Thing and he
Is 'Declaring' Himself, A "Foreign Agent"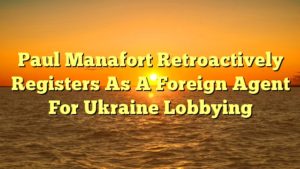 (Way Late)
But; About $17 MILLION Russian Rubles
way Too late. What did he do for them?!
"Political Consulting Work, He Did For A
Ukrainian Political Party, Acknowledging
that he coached party members, how to
Interact With U.S. Government Officials"
He did this from 2012-2014. He filed for
this 3 years Way too late & after he tried
All His legal Options. Oooooooooooooops
Manafort, Has More Russian Connections
than a Caviar Farmer on the Caspian Sea
This is A bombshell. More Will be coming
out daily as lawyers Scramble To Prepare
(Treason Twins)
a losing Battle Plan. Mueller doesn't fuck
Around either. This is High Treason folks
Down, Down, Down They All Go. One, By
One, Ending, With The Orange Anus Him
self. Tick tock, tick tock you're on a clock
(Kushner, Page, & Others are likely Next)
NOTE: The Free Press Finally Strikes Back
They Have Had Enough, And Brian Karem
Called It Out. They, Should ALL Be Stating
This To An 'Unchecked' Cadre Of Lies & Of
Clear Obstruction 2 Answer Any Questions
Have a day!